What do you call a vacation package to Harry Potter World (Universal Studios) for two that is disrupted by flight delays for your travel buddy? That's called a suddenly solo trip to Star Wars: Galaxy's Edge (SW:GE) at Walt Disney World's Hollywood Studios. I mean, this was light years from what was planned, but when you find yourself stuck in Orlando for (what turned into) 3 days, you go to Disney, folks. Pretty sure that's a First Order law or something?
If you don't know what SW:GE is, you may have been stranded on Tatooine, because this attraction has been all over social media since it opened in 2019. Basically, it's like complete submersion into iconic Star Wars movie sets.
I was raised on Star Wars, and I still want to be Princess Leia when I grow up (I'm 47, so I'd better hurry up if I'm serious about that!), so I was happy as an Ewok to finally see what all the fuss was about. The greatest surprise is how much fun a solo person can have in this galaxy far, far away. Here are some tips for such a mission.
---
TIP ONE: These three words will rock your world: single-rider line. The primary rides offer a perk to their solo travelers, and this will seriously shave hours off your day. For example, while other people were waiting 40 minutes to ride on Millennium Falcon: Smuggler's Run (an interactive visual experience that puts you in the cockpit of the ship that did the infamous Kessel run in less than 12 parsecs), I walked right onto the 6-person ride and was placed with a family of three and another couple. The tradeoff with the single rider line is that you can't pick your assignment: 2 engineers, 2 gunners or 2 pilots. Who cares? Save the lines for the restaurants.
---
TIP TWO: Oga's Catina is out of this world! Step inside the notorious watering hole for a fun atmosphere, complete with droid musical entertainment, as you sip creative alcoholic cocktails (like the Fuzzy Tauntaun and my tasty Caribbean blue Jedi Mind Trick) while nibbling on Batuu Bites. They boast an array of fun non-alcoholic options, too. Advanced reservations are a MUST if you wish to dine at a table; however, they squeeze people in, as space allows, at the bar for drinks only. I didn't have a reservation, and my wait to stand at the bar was less than 2 minutes! Another win for this solo adventure. So much attention to detail, so soak it in. One of the critters on top of the bar inhales and exhales when they pour the drink below him.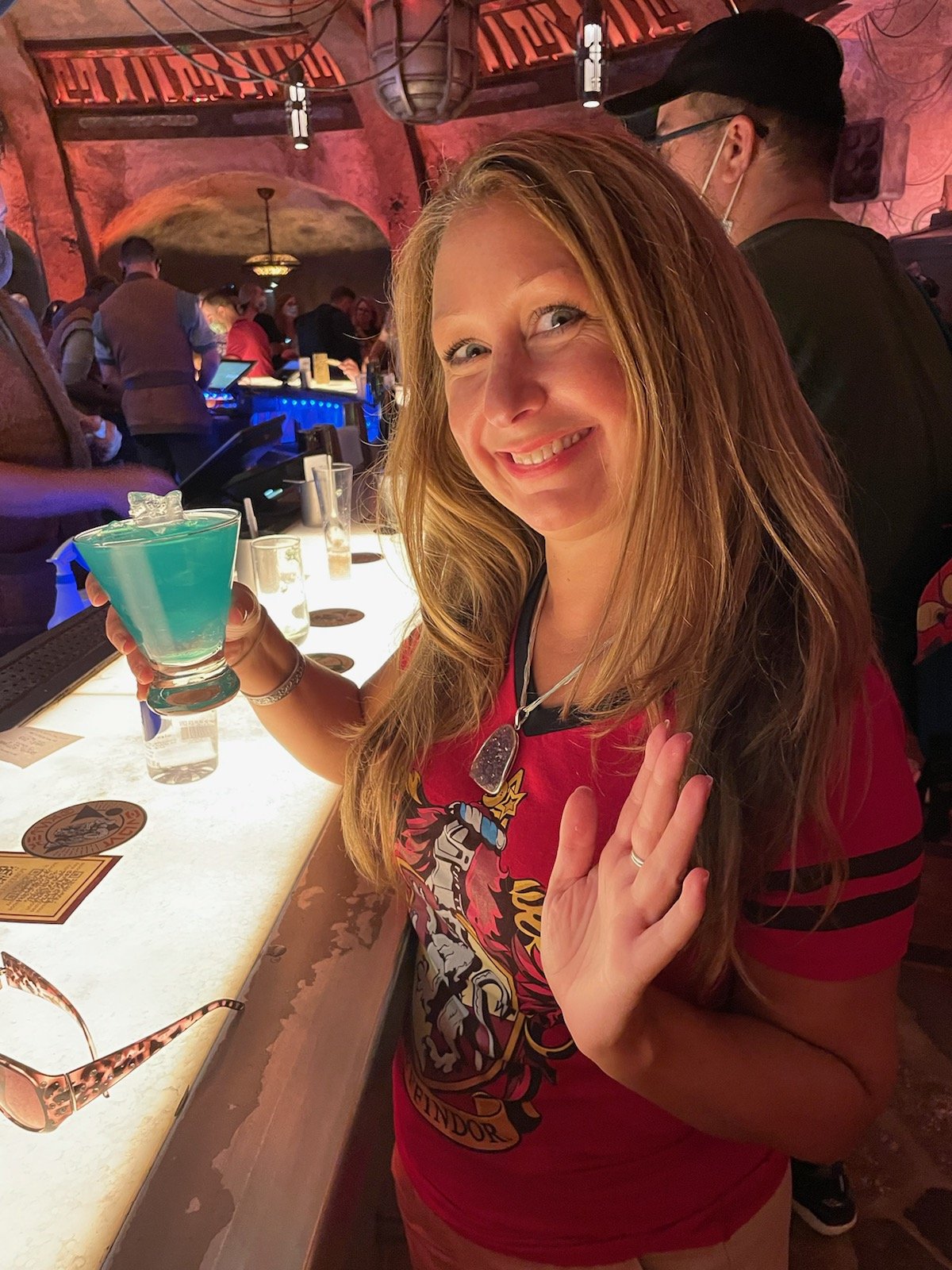 ---
TIP THREE: Interact with Kylo Ren and two Stormtroopers on a stage that is about 30 steps from Oga's. The trio, which appear about every 30 minutes or so, are on a mission to discover a rebel spy in the audience. I confessed to being said spy, yet I got off with a finger wag and a stern warning. Must have been the Jedi Mind Trick drink I had at Oga's! Score. Seriously, folks, this was fun! Kylo interacted mostly with the children in the audience, who were absolutely mesmerized by him. This is worth the time investment.
---
TIP FOUR: Always wanted your own lightsaber? Or maybe you'd like to build your own droid? You're in luck! These cost extra, but that's a small price to pay for the full SW experience. Did I do them? No, but I sure had fun watching. You'll probably see characters like Chewbacca and Rey Skywalker in that area, too.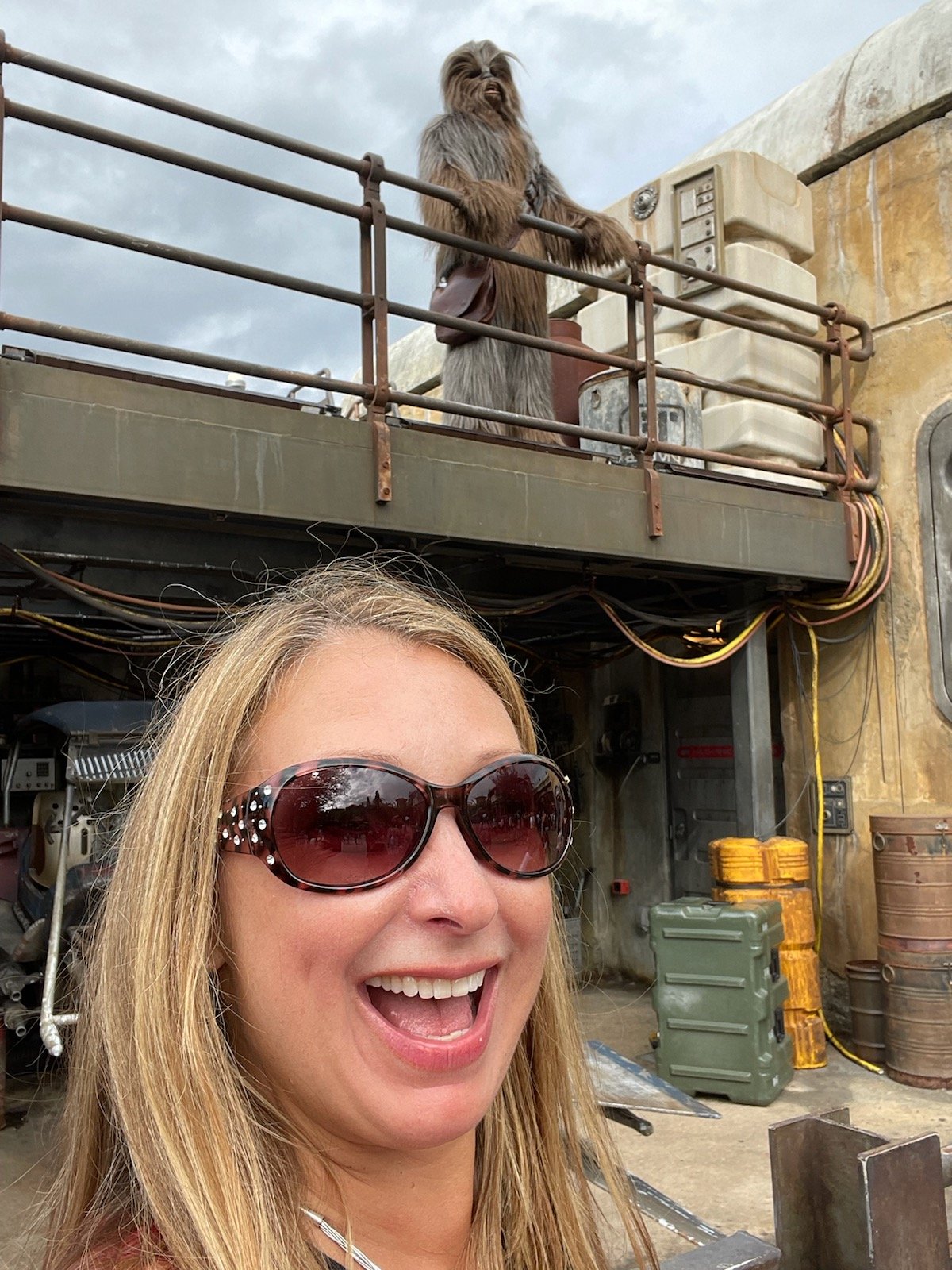 ---
TIP FIVE: Star Tours: The Adventure Continues, a 3D visual extravaganza at the front entrance of the SW:GE area, is a must. You'll have an excellent photo opp with a giant AT-AT Walker outside, plus the ride itself is super fun! No single-rider line, but the wait was just a few minutes, and they wind you through interesting Star Wars Audio-Animatronic sets on the way. Sit on the front row, left side for a bird's eye view of the best protocol droid ever… C-3PO! Even non-riders will enjoy this, because it's basically like being in a 3D flight simulator.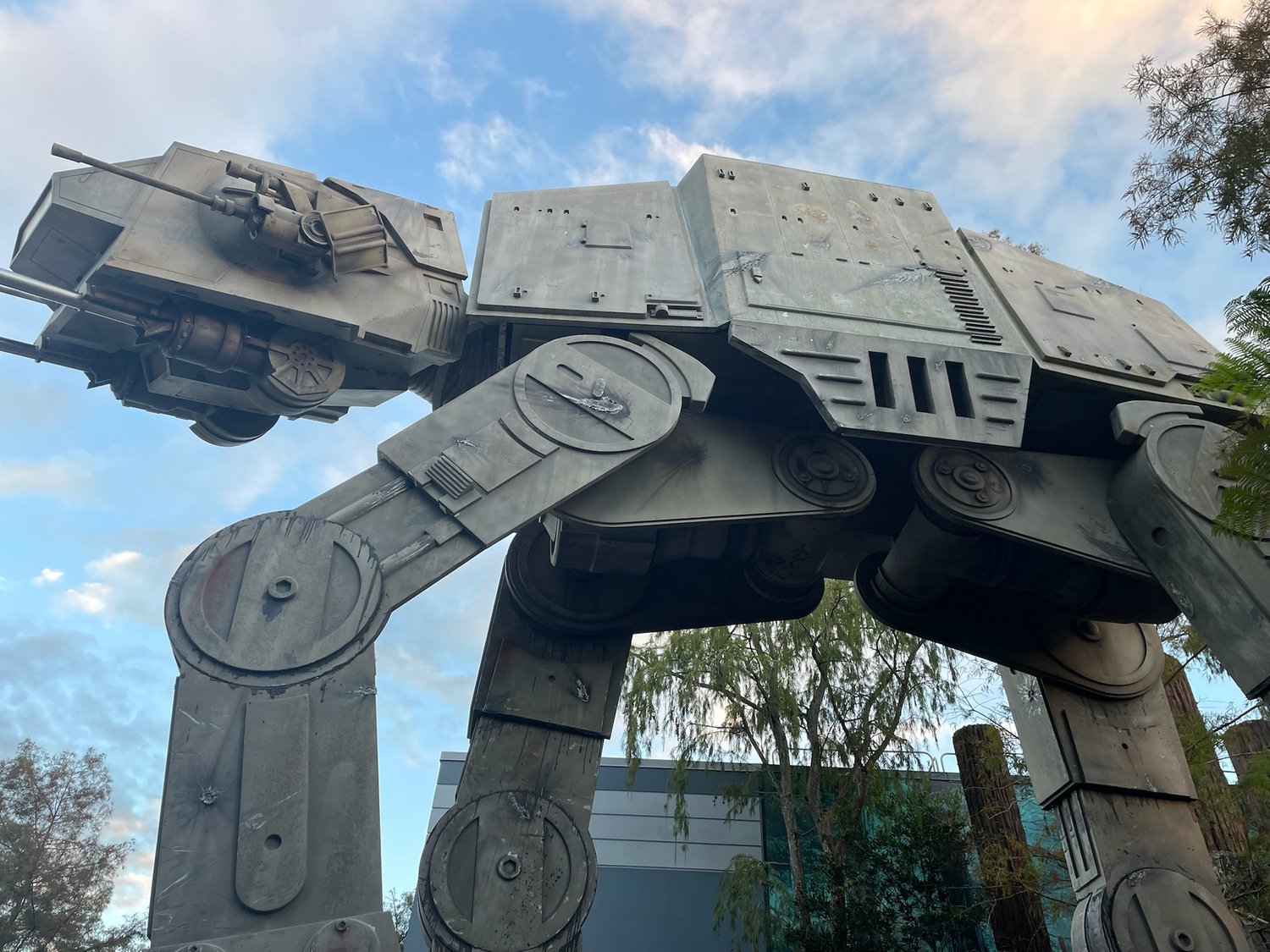 ---
BONUS TIP: My Disney-fanatic friend told me to visit Woody's Lunchbox in the Toy Story area, and this was an excellent tip! Take advantage of the delicious grilled cheese and tomato soup offering… best meal of the day! It isn't in SW:GE, but it's an easy walk. Best of all, the pricetag for this theme park food was less than $15. My Grown-Up's Lemonade with vodka, lemonade, and black cherry puree? Refreshing for sure, plus they also serve beer for adult guests.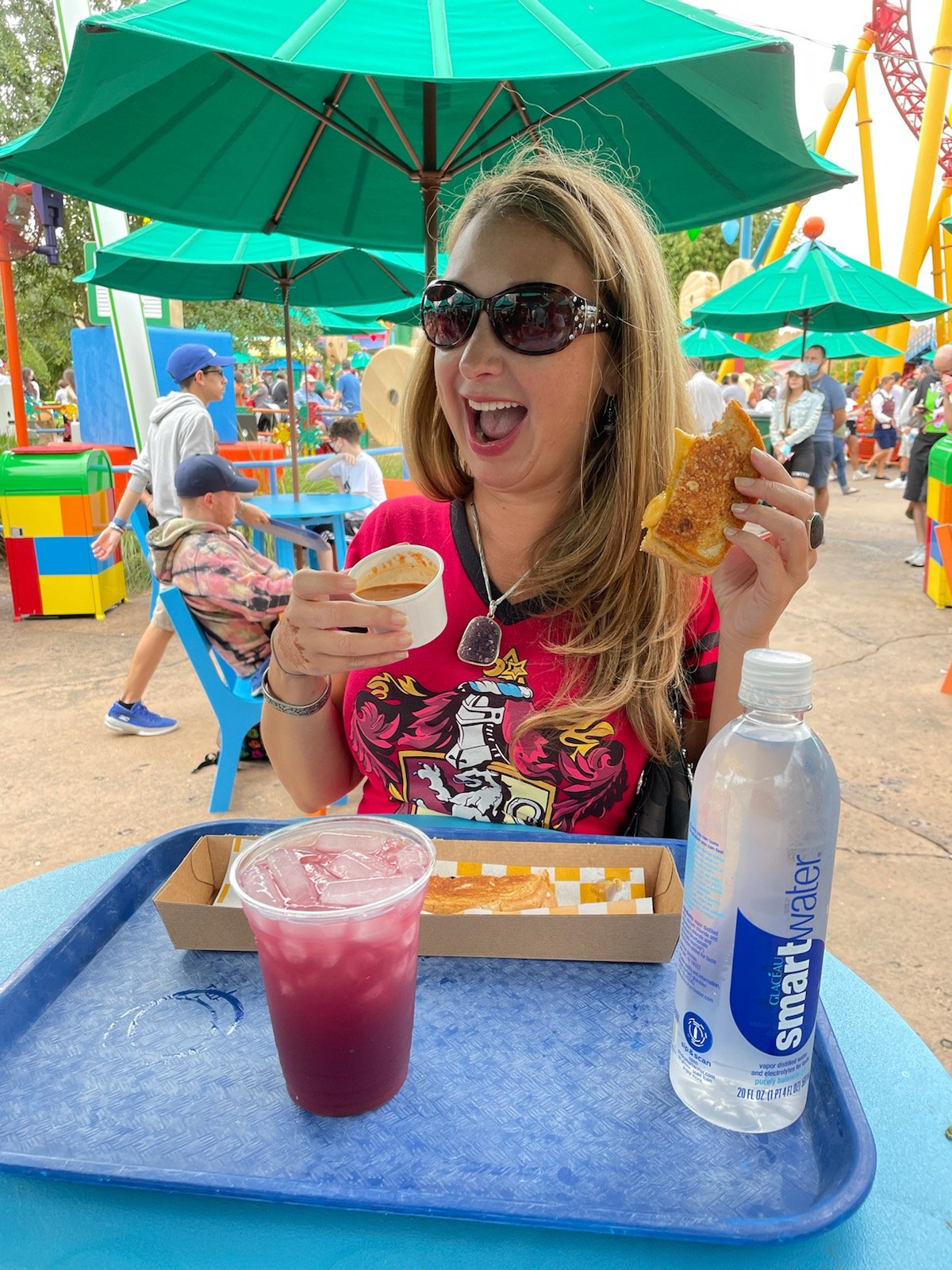 ---
My final tip is to explore all the gift shops. That's how I stumbled onto the Droid Depot and the lightsaber workshop. It's not the same merch over and over, and it's safe to say they are like attractions in and of themselves. Some of the items found in Hollywood Studios and SW:GE include high-quality character costumes (see bounty hunter below), bluetooth droids, a Sith Chalice, an R2D2 salad bowl, and a very heavy and impressive Mandalorian helmet. I must confess to being way too excited about an interactive (moving, talking) Groot that responds to voice commands (wrong Universe, I know, but indulge me).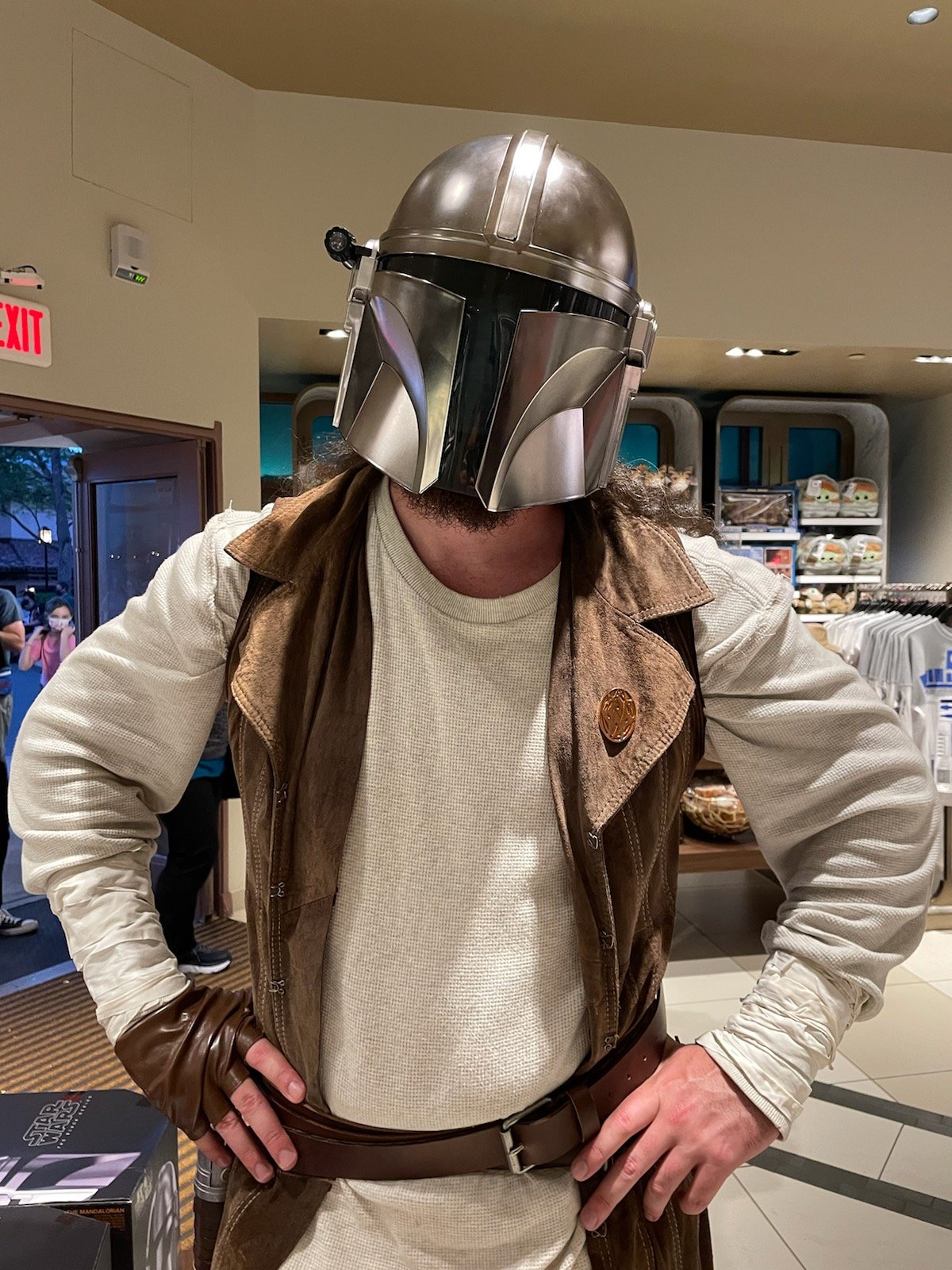 ---
All I can say is, if you have to be stuck somewhere, why not the happiest place on Earth? The force was with me as I took full advantage of my solo time at SW:GE, turning what could have been a meltdown of a day into a bucket list check-off experience. In fact, flying solo was a weird blessing, because of the time I saved for ride lines. I was able to sleep late and light speed my way through Hollywood Studios in 5 hours when other people had been standing in lines all day.
If SW means something to you, make this a priority. It's hard to explain SW:GE, and the pictures fail to do it justice. The epic scope can only be experienced first-hand. Get ready to live your childhood SW fantasy. Pretend like you're somewhat shady at an outpost bounty hunter bar, wander through the cosmic streets of a galaxy far, far away and wave at your favorite heroes and villains? I'm embarrassed to tell you how many times I giggled when Chewbacca waved at me.
Just go. Your inner geek will thank you for it. Don't have anyone to go with? Fly solo! I did, and it was epic.
Click here to read Lisa's Travel Insights: Flying Solo at Epcot's International Food & Wine Festival, and follow all of Lisa's adventures on Instagram at @lfarrimond