I've always liked the saying, "experience is the father of wisdom." Now that my son is starting to eye my car keys, I can only hope my years of experience as a dad has made me wise enough! When I stop and reflect on my life as a husband and a parent, and all that we've learned together as a family, I can't help but smile, get in on the passenger side, and say, "We've got this."
Since Father's Day is this month, we reached out to several men I know who lead with their hearts and are blessed with a life of fatherhood. I asked them to join me in dropping some dope dad wisdom.
Dr. Kenyon Godwin is President and Lead Doctor at the Active Family Wellness Center, a holistic medicine, chiropractic and wellness center, and a business coach at D.R.E.A.M.S. Consulting. Kenyon is extremely active in his church and faith-based leadership groups. He and his wife Courtney have three daughters, Kaia, Alyssa and Eliana.
Andy Nguyen, a passionate servant leader and talented entrepreneur, hosts a owns a franchise consulting business following years of public service as Tarrant County Commissioner and Deputy Chief of Staff for Congressman Ron Wright. He's also a talk show host on Saigon Radio. He and his wife have three children, Theodore, Faith and Nicholas.  
Dr. Moody Alexander is an award-winning orthodontist, a Clinical Professor in the Orthodontic Department of Baylor College of Dentistry. Very active in his church and community, Dr. Moody has served on many non-profit boards and gives as much time as he can to church missions. He and his wife Emily have seven children: Hill, Wick, Avery, Isabelle, Abe, Eyasu, and Gigi.
Larry Curry, Manager of Business Operations Technology and Innovation at Bell Helicopter, is also the founder of Metro Sports Fieldhouse, a non-profit that provides area youth with healthy mind-body enrichment programs that empower, motivate and create future opportunities. He and his wife Robin have three children: Levi, Lyla and Logan
We all had so much fun reflecting on different facets of our lives – being dads as well as our chosen professions, our faith journeys, and our passion for community. How would you answer these questions if they were tailored to you?

Sociability: What's something that your child does that s/he clearly picked up from you?  
The Nguyen Family
Kenyon: This could be a million things! I'll say Alyssa, because she is very entrepreneurial. She's constantly thinking about ways to make money or do something or analyze things, like an attorney. She does her research, then she sells you on her idea whether or not you don't see it coming. And then I'm just standing there asking, "How did this happen to me?"
Andy: My oldest, Theodore, argues and debates like me. My daughter, Faith, is goal oriented and driven, like me. And my youngest, Nicholas, is people-oriented, like me.
Moody: One of my daughters love to travel, experience new things, finds the coolest new restaurants… definitely came from me.
Larry: My children are super goofy and jokesters.
Tony: None of my kids have hurry bones…yeah, that's my fault.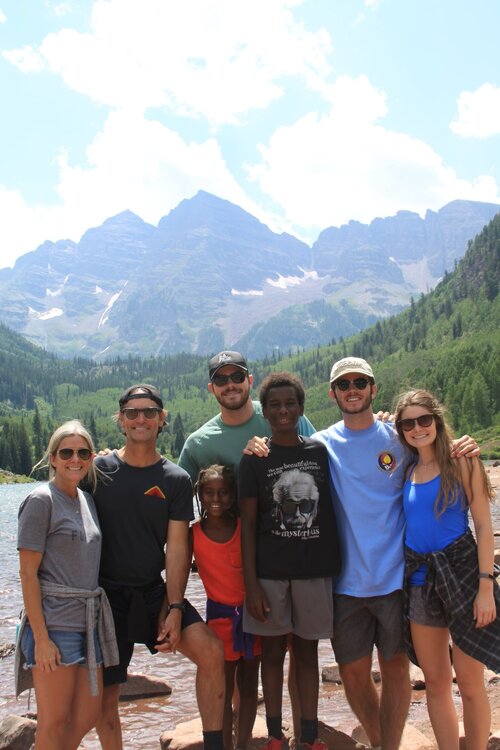 Sociability: If you could turn into one of your kids for a day, who would it be and what would you do?
Kenyon: That would be tough, biologically speaking (laughs), but…I guess I'd choose to turn into Kaia, my oldest. She has some of the greatest human potential I've ever seen. She is genius. I'd love to build her confidence, get some things going for her. Show her how awesome she is.
Tony: My 6-year-old. Wouldn't it be fun to have that kind of energy? I'd just play!
Andy: I would turn into Nicholas, my youngest, so I can learn how to play video games and understand his fascination with them.  
The Curry Family
Moody: My son Abe. He has severe special needs and requires tremendous and continual care, but he is the light of our family with a continual smile and joy that radiates from him. The idea of seeing the world from his perspective is really beautiful for me.

Sociability: If you could keep only one appliance in your house, which one would you choose?
Larry: I like to cook, so an oven or stove.
Andy: An air fryer.
Tony: The grill!

Sociability: What's something you believed early in your career but think differently about now?
Moody: That I had to do everything perfectly, and that I was always going to make everyone who came in my office perfectly happy.
Kenyon: That I could help everybody. You can only help people who want to be helped; you can't will people to get help. To go forward successfully, you have to work with people who align with your values.
Larry: That most of a person's success is based on what they know.
Andy: That working hard, keeping my head down, and keeping to myself would help me reach success. Now, although I still believe in working hard, I have learned that by keeping my head up, I can see my vision more clearly, and by connecting with quality people, I can learn to achieve success faster and be happier.
Tony: I didn't appreciate incrementalism, but now recognize that it's extremely important to ensure long-term success and achieve your goals.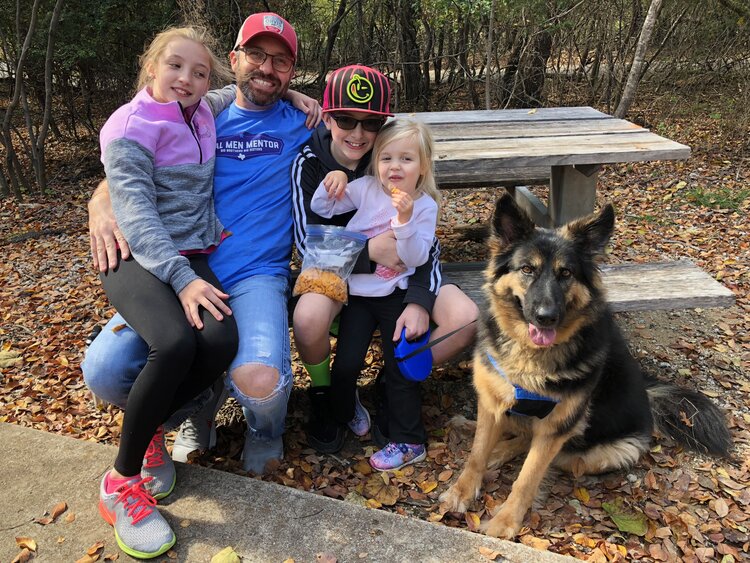 Sociability: As a child, what did you want to be when you grew up?
Tony: A fighter jet pilot.
Andy: A leader.
Moody: President of the United States, a Broadway star, or an orthodontist.
Kenyon: I just wanted to be someone of significance. I had a weird upbringing, without a lot of encouragement in the school system. I was a smart little kid, and I remember telling my second-grade teacher that I wanted to be an engineer. Instead of encouraging me, she told me I should think about being something else, like a construction worker. When the next kid—a real trouble-maker in class—told her that he wanted to president, she said "Good job" and encouraged him. That skewed everything for me in school from that point on, and when I turned 17, I joined the military. Still, everything in my past has brought me to today, and I can truly say thank you. I've had and have an amazing life.
Sociability: What activity makes you lose track of time?
Andy: Reading the news.
Kenyon: Talking to people, enjoying fellowship with one another.
Tony: Daydreaming.
Moody: Spending time with my wife, Emily, on a beach in Mexico!
Sociability: If you could go back in time and pay more attention to any class in high school, what would you choose?
Larry: Economics
Andy: History!
Kenyon: To be transparent, English. I wasn't well-taught. Grammar and writing are things I struggle with, and where I am in my career now, communication is key.
Tony: All of them. I focused most of my attention on basketball and didn't take school/classwork as seriously as I could have.
Sociability: What piece of advice would you give a first-time dad?
Moody: Help your wife as much as you can and savor each moment, even the hard ones, because they go by so very quickly.
Andy: Being a dad is like being a public servant. You must love your children unconditionally. You must care for them. You can't yell at them, and you must act calmly when they yell at you. If they poop, you must clean it up. And most important of all, you must help them believe in a grand vision that they themselves can't yet see, and at times push back against it.
Kenyon: I love being a father. It's one of my favorite things. I'd tell a first-time dad to enjoy them and love them for who they are. Don't think about anything else. Kids lack self-confidence today. As long as they feel loved, you are giving them the tools they need to be their authentic self.
Tony: Give yourself grace to make mistakes.
Larry: Be patient, present, and make sure your house is filled with love, and everything else will fall into place.
Sociability: What part of elementary school do you wish you could incorporate into your adult life?
Larry: Recess!
Tony: Field Day!
Andy: Having access to a caring teacher every day, whenever I need her.
Sociability: Would you rather travel back in time to meet your ancestors, or to the future to meet your descendants?
Kenyon: Part of me would want to travel back in time, because like most people of color, I am missing many pieces of my ancestral identity. It would be so cool to know things about them. But I would choose to go forward. As I look at the way the world is headed, I'd want to instill values and a belief system based in faith. I would want to make an impact generationally.
Andy: I would rather travel to the future to meet my descendants.
Tony: Me too! I'd totally travel into the future. It would be so cool to see how the family tree continued to develop!
Moody: I would like to see the legacy that was created, beginning with my grandparents and on through my generation.
Larry: Travel back in time to meet my ancestors, so that I can learn from them and gain a true appreciation of what they went through so that I can be in the position I am in today.
Sociability: What is the most recent thing you put 100% of yourself into?
Kenyon: Everything! But one thing? Planning our Spring Break vacation. I'm the one who plans all family trips. Spring Break 2021 was the third time in 11 years of business that I took a whole week off. I planned and paid for all our trips at the beginning of this year…so I had to take them. We went to Florida over Spring Break and really unplugged.
Andy: Helping a friend.
Tony: Starting a business. Or two.
Larry: I put 100% into growing my non-profit organization, specifically so that I can leave a legacy for my children and all the children we serve.
Moody: Planning my mom's memorial service. That sounds strange, but we really wanted to honor mom and create the most beautiful service we could…all the planning was well worth it!
Sociability: What is one thing that being a parent has taught you about being successful in your career?
Tony: You must treat people as individuals. You can't treat everyone the same way. Different personalities require a different approach to building a relationship.
Moody: Putting others first. As a parent, your kids come first, they just do. In my profession, I find that when I consistently put others first – whether it's my employees, patients or their families – then my business thrives.
Kenyon: How to look at life through another's perspective. That's a tough lesson, because all I know is me. When I was younger, I didn't understand why I think the way I do. As a parent, I've had to learn the why. And my kids are so different, generationally, than me. It almost doesn't seem real the differences between my childhood and theirs. Their lenses are so different.
Andy: Even a dog can eat, sleep, and have fun. A man must do more, be more for others and society.
Sociability: What's a skill you learned when you were young that you still use today?
Moody: Learning people's names and details about their lives.
Andy: How to ride a bike.
Kenyon: At a very young age, I learned time management by default. Mom didn't have a driver's license, so we depended on other people to go everywhere. The entire structure of our household was built on our circumstances. We had to be responsible.
Tony: I learned to make friends quickly. Because my dad was in the Air Force, we moved about every two years, so you couldn't waste any time being shy.
Larry: The importance of communicating and being kind and friendly to people.
Sociability: What is the kindest thing someone has ever done for you?
Moody: Anytime someone does something kind for one of my kids, that is the kindest thing!
Tony: Too many to narrow down! So many people have done so much for me throughout my life. I wouldn't be where I am today for not the kindness of so many.
Kenyon: When I was in chiropractic school, between school and homework, I didn't have time for a job. We were down to one vehicle. One day, the alternator went, and my wife couldn't get to work. We had no money to fix it. Without us asking, one member of our church bought us a new alternator and another member installed it – on his birthday, on his way out to his birthday dinner with his family.
Andy: The American people gave my family and me food to eat when we were starving, water to drink when we were thirsty, and a house to make a home when we were homeless. They gave us life when we were on the verge of death, freedom when we were in bondage, and opportunity when our backs were against the wall.
Sociability: What's your Texas Rangers walk-on song?
Larry: My House by Flo Rida
Kenyon: Coming in Hot by Lecrae and Andy Mineo
Andy: Eye of the Tiger by Survivor
Moody: Awesome God (rap version) by R-Swift
Tony: Should've Been a Cowboy by Toby Keith
The Godwin Family
The Nguyen Family
The Alexander Family
The Curry Family
The Rutigliano Family