"I regard the theatre as the greatest of all art forms, the most immediate way in which a human being can share with another the sense of what it is to be a human being."

– Oscar Wilde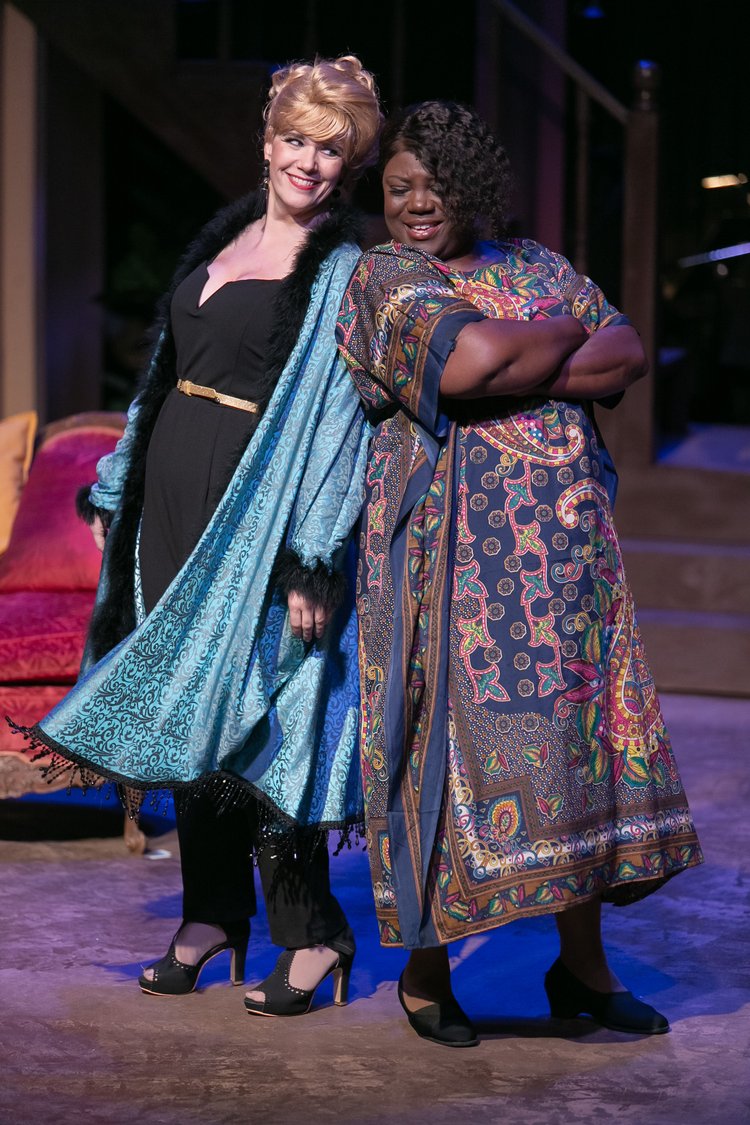 Opening night!
When you love live theater, there's nothing like these two words.
On March 25, Theatre Arlington had its first opening night in nearly two years, following the completion of the largest renovation in the company's history. Ticketholders gave a standing ovation to Theatre Arlington's brand new exterior, box office, lobby, comfortable seating, and stage, while cast and crew gushed over the backstage accoutrements and elbow room.
"For years Theatre Arlington has been home to some fabulous performances, but the building and equipment were just about crumbling around us," said Kim Lawson Turner, TA Sales and Marketing Director. "So these upgrades were essential. Now the community has a beautiful and safe place to escape life for a while, to laugh, to sing along, to be touched, and maybe even to learn and think about something in a different way. I am so proud that I get to be a part of that, even in my small way."
"It's like Theatre Arlington has grown up!" said Cathy O'Neal, TA Director of Development.
A NEW ERA
When you talk to the folks at Theatre Arlington, it's apparent that this transformation wasn't just about bricks and mortar. It was about building a new mindset.
"This renovation was critical to the theater growing and moving forward, not to mention Theatre Arlington's aspirations to become a Small Professional Theater with Actors' Equity," said Cathy. "The entire Theatre Arlington experience will be elevated, from what you see on stage to what we can accomplish off stage."
The performance venue, which was previously the Kier Lumberyard building, had been the company's home since 1991. The $3 million renovation, funded in large part by a grant from the Arlington Tomorrow Foundation, not only enhanced production quality and patron experience in the house but supports Theatre Arlington's vision for outreach, educational programming, and inclusivity.
"At the same time as our renovation, COVID-19 was a major challenge in our country, but so were the life-changing events regarding race," TA Executive Producer Steven D. Morris said in an interview with Downtown Arlington. "National and local theater communities had to take a close look at themselves and how they were doing with regard to diversity, equity, and inclusion."
"Theatre Arlington used this time to reflect on our past and find ways to improve," Steven continued. "We formed a Diversity and Inclusion advisory board. The executive staff took extensive training and participated in workshops and discussions. Our board of directors recently formed a Diversity, Equity, and Inclusion committee. I'm proud of the steps we're taking and the commitment that Theatre Arlington is making to be more representative of our entire community. I'm proud that in the midst of fundraising and renovations, we also made huge strides in who we are as an organization."
ALL THE WORLD'S A STAGE
Theatre Arlington's renovation is already having a direct impact on its educational and outreach programs, and not just because there's more classroom space and state of the art equipment in the venue.
Cindy Honeycutt, TA Education Director & Business Manager, explains. "Outreach to underserved communities is my passion and has been a focus of Theatre Arlington since 1996. This year, we're now able to expand our ActUps (Applied Creative Thinking Using Performance Skills) in school enrichment to two more Title 1 elementary schools, and we will continue to do so until we have a program in all of them. We're also expanding our reach this summer to Sam Houston, the only Title 1 high school in Arlington, with scholarships to the new AISD High School Musical program."
"Study after study shows how much experiencing the arts improves students' self-esteem, critical thinking, school attendance and participation," said Cathy. "There is such demand for theater arts education in our community, especially among students who are considered at-risk and under-served. To bring the arts to those who can't afford theater camp or theater classes requires resources like supplies and teaching artists. With our new facilities, we've already seen an increase in season ticket sales and individual sales. Those increases directly support Theatre Arlington's ability to increase our educational programs and outreach."
GET YOUR TICKETS NOW
Tickets for the 2022-23 season are going fast, especially for Theatre Arlington's season-opening production of Sister Act. Get your tickets now at theatrearlington.org.
ENCORE!
Bonus questions? You bet. Feel free to applaud.
Sociability: There's nothing like live theatre! Why is it such a special art form?
Kim: Live theater is fun and entertaining. Theater is ALIVE! Every. Single. Performance. No two shows are exactly alike. You are pulled into the action, the emotion, the song in such a personal way. You can hear the actor breathing, see his sweat, hear the patron behind you sniffling. For many of us, there was a time when that feeling (whether on stage or in the seats) overwhelmed us and changed our life. Theater can open up the mind and the heart!
Cindy: Because it lives and breathes, and the audience is an essential element. The actors feed off the energy that comes from the audience, and can feel when the joke lands, or the sensitive material hits home, or the audience solves the mystery. There is nothing like performing live, from beginning to end, and sharing a story.
Cathy: I think it's because it is never the same show from night to night. Part of the fun, and the challenge, of doing a show is that anything can happen! And that doesn't just mean mishaps, it also means that one night when that one actor sang that song perfectly, and you could hear the audience's breath and heartbeat as they took it all in together. As an audience member, it's experiencing the uniqueness of that one performance, that one moment in time.
Sociability: What do you love about Theatre Arlington?
Cindy: I love the friendly feel, the accepting atmosphere and the creativity that surrounds the space and the people in it.
Kim: EVERYTHING! The talent, the atmosphere, the volunteers, the staff, our customer service…everyone is always working towards our main goal of entertaining and enriching lives with theater. Whether that is in a production or an acting class, everyone is always positive and focused on that goal. AND we are so welcoming and inclusive in all that we do. It really is possible for everyone to find a home here.
Sociability: What else would you like to share?
Cindy: Best job, best coworkers, best organization, best place I have ever worked, and I am so proud to be a part of who and what Theatre Arlington is.
Cathy: Arlington is so incredibly fortunate to have a Cultural District, and Theatre Arlington is proud to be a major organization within it. The theater's renovation has been way overdue! What we have accomplished with support from the city, businesses, foundations, organizations and generous individuals is the theater Arlington deserves!
Kim: Main Street in Arlington, Texas is growing and becoming THE place to be! I can't wait to see what it will be like in 5 years. And, if you're new to this…give theater a chance and check out our line-up. I bet there is something that might pique your interest.
And we have a BAR!
Steven: We are honored to have served the Arlington community for 49 years. The best is yet to come!
Photos courtesy of Theatre Arlington