In our February 2022 issue, artrepreneur and Corey Academy mom Lindsay Whittenberg shared the story of Kindness Week at her childrens' school, and how they killed it… with kindness, of course.
Good news! Now everyone in our community can immerse themselves in kindness, thanks to the kind (and smart, creative, and fun-loving) folks at the Arlington Public Library.
Introducing: The Kindness Project.
We asked Stacy Garcia, Administrator for Program and Community Engagement for the Arlington Public Library, to tell us how the idea for The Kindness Project took shape.
"Our idea to highlight, inspire, and celebrate kindness came as a result of the desire to respond positively to the events that were happening around us and across the country," Stacy said. "Not only has the pandemic had a very detrimental impact on our community, but we were seeing many instances of social injustice and divided communities occurring around us. The Arlington Public Library sought to support the City's Unity Council goals of empowering citizen to connect with their communities and enhancing diversity, equity and inclusion. We wanted to provide a tangible way to gather around something positive and inspire people to take a step back and think, plan, and implement kindness intentionally."
"ON THE RIGHT TRACK, BABY"
From March 26 – April 30, 2022, you're invited to join The Kindness Project, a month-long series of programs, events, workshops, and, of course, a common book for the entire community to read (or listen to) together.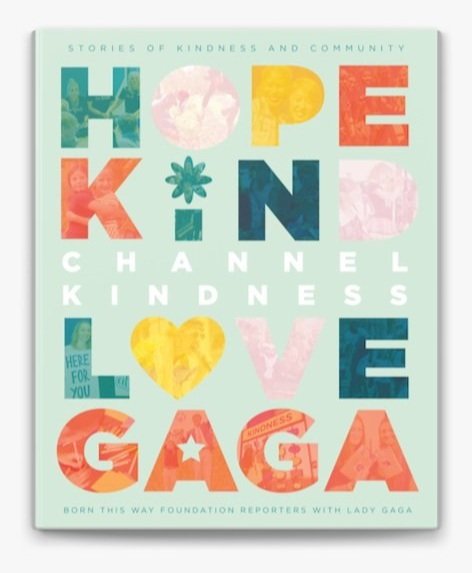 "As we were looking to introduce a community read book, we felt strongly that the theme needed to reflect being good neighbors and looking out for each other," said Renee Bradshaw, Library Service Manager for Special Projects at the Arlington Public Library. "We discovered the book Channel Kindness: Stories of Kindness and Community by The Born This Way Foundation Reporters and Lady Gaga, and it was the inspiration we needed to create The Kindness Project."
"We chose Channel Kindness because it shows how young people from all walks of life, experiences, and situations found ways to rally their communities around a common cause benefitting others," Stacy said. "We hope this book would serve as a type of inspirational reference to spark ideas amongst the Arlington community to spread kindness in a way that works for them and meets the areas they see in need."
According to Stacy, Channel Kindness highlights large and small projects from all areas of the country and from all types of people. Topics range widely from suicide prevention to climate change. Projects include feeding homeless people with "ugly" food (free, edible produce deemed not attractive enough for supermarket shelves) and online support groups geared toward ending harassment of various groups in public.
"The book encourages participants to come up with projects that lead to a kinder, braver world," Stacy said.
JOIN THE KINDNESS PROJECT
The team at the Arlington Public Library have packed the month of April with (free!) programs to spark all kinds (get it?) of kindness, and frankly, we're blown away by the variety of options to choose from:
Coffee & Chats about the book, Channel Kindness: Stories of Kindness and Community
Several mindfulness explorations including Sound Bath and Meditations, Meditation for Relaxation, Tai Chi, Yoga for Relaxation, and Introduction to Qigong
The Next Right Thing with author Shaundale Rena, who will talk about the importance of taking time to listen to your inner voice as it pertains to the next right thing for you, including the ways you choose to serve your community
Be the Change in your Community: a conversation with the national award-winning civic engagement students from Tarrant County College Southeast
Free Kindness Kits (quantities limited)
City Council Member Raul Gonzalez discusses ways you can take that first step in Giving Back to your Community
Hands-on creative practice workshops including Affirmation Bracelets, Everyone's a Poet, Sustainable Landscaping, and Upcycled Art: Book Folding
Then of course, there's the main event:
The Community Care Fair on Saturday, April 23, 2022 from10 a.m. – 2 p.m. at the Bob Duncan Center
Join the Arlington Public Library for fun kindness activities and community demonstrations including healthy cooking, meditation, yoga, and much more. Learn about physical and mental wellness, sustainability, volunteerism, and becoming active in your community. Look after your health by participating in health screenings and a vaccine clinic, and help address the national shortage of blood by participating in the Carter BloodCare drive.
"The Community Care Fair is unique in that it showcases the various ways in which people can engage in kindness on a scale that works for them," Stacy said. "We're bringing together community organizations that support mental and physical health, plus various community services that support all members of our community. We're also offering ways for people to get involved by volunteering. We hope that by bringing all of these entities together under the lens of kindness—to self, the community, the environment—we will inspire our community to pay it forward."
For the complete schedule of The Kindness Project, click here.
KINDNESS IN THE FIRST PERSON
One thing we noticed right away about The Kindness Project programming is its generous attention to self-kindness.
"Kindness can be expressed in a variety of ways," said Renee. "Kindness to yourself means taking care of your body and soul. It can also mean helping, volunteering, and being active in your community. Kindness to the environment can mean recycling, sustainable habits. Often, we tend to look after the needs of those around us, it is easy to forget our own needs. It starts with us first. If we don't take care of ourselves, we won't have the ability to be that person we need to be for others."
Stacy agrees.
"Kindness to self is a critical part of the series, particularly as many of our community members are dealing with mental health issues and are struggling across the board due to the various and ongoing impacts of the pandemic," Stacy said. "If we start with kindness to self, recognizing that we, ourselves, are worth care and kindness, we can begin to extend that kindness and effort out to others, our community, and our environment."
My gosh, yes. What better way to create a hopeful future for our world than to first see ourselves and others as worthy of care and kindness?
"In small or large ways, we want to develop a continuing culture of cultivating kindness in our spaces," said Stacy. "We look forward to continuing The Kindness Project through our programming and activities throughout the year."

The Arlington Public Library wishes to thank the Texas State Library and Archives Commission for their generous support of The Kindness Project.