Over the last fifteen years, I have taught art in some form or fashion. I've painted with a room full of first graders. I have taught two-point perspective to sixth graders. I have taught men and women in their 60's and 70's how to use a calligraphy pen. And you know what sentence I have heard in all of these classes from my magnificent students?
"I'm not an artist."
It breaks my heart to hear these words. When did we start judging ourselves so harshly? Why are we so terrified of being vulnerable enough to try something new?
For those of you familiar with the show, Ted Lasso, you know that Ted is optimistic to say the least. As the new head coach of a British football league, he has the job of motivating his team to succeed. My favorite scene is when he quotes Walt Whitman, "Be curious, not judgmental." He goes on to talk about people who have underestimated and judged him his whole life, only to realize later in life that those people aren't curious. They never really got to know him.
We are all artists. Some of us just haven't gotten to know that side of ourselves. Most of us have been so busy critiquing our flaws that we forgot how to be artistically curious. This doesn't mean that we need to aspire to being Monet or Frida overnight. But what it means is the we have an entire untapped side to ourselves that has yet to be discovered! How exciting is that?
During the past two years, there has been so much change, so much overstimulation of information and political divide, that turning off the 'noise' is our heads can at times feel nearly impossible. When it comes to COVID, we have all endured (are enduring) a collective trauma. We are still processing what has happened in the past while simultaneously worrying about what will happen in the years to come. Our minds are exhausted.
This month, I would like to invite you to join me in a month of mindfulness. Mindfulness is the state of active and intentional attention to the present. We will be approaching this just as Ted Lasso would… with curiosity. The goal here is not one more thing to put on your to-do list, but instead a gift being present for 15 minutes at a time.
TO PREPARE
Find a good sketchbook. Invest in one that will last. My suggestion is to get one filled with watercolor paper or mixed media paper, like this one.
Set up your workspace. This can be anywhere. The goal is to find a place where you won't be disturbed. Keep in mind some things that you might like to include while you create:
a candle or incense
soft music
a warm cup of coffee or iced tea
Have your art supplies out and ready. Nothing is more frustrating than finding the time to create, only to spend the majority of the time looking for your supplies. Choose a medium/mediums to explore and make sure they are ready to go. This could be pencil, watercolor, pastels, you name it!
Find Inspiration. We all have phones on us at all times now, so let's use them to our advantage! While you are out, doing your daily routine, try to start looking for things that draw your attention. This could be a flower in your garden. A sunset that you witness. Now when you sit down to create, you will have photographs to draw from if you choose.
TIME TO CREATE
Here are seven prompts to get your curiosity flowing. Want to skip one? Go for it! Want to make up your own? YES! This is all about you and finding time to slow down, get curious, and be present. By repeating these seven prompts four times, you will have conquered a month of artistic curiosity and be able to see how much you've grown in such a short amount of time!
---
PROJECT 1: MANDALAS
If you are looking for a little more structure to ease into art journaling, mandalas are a great way to start! 
A mandala is a geometric configuration of symbols that radiate out from a central point.
To begin, simply choose a medium (I used paint pens because they were handy!) and put a dot in the center of the page. From there, using lines and shapes, create your own unique design around the dot. Radial symmetry is the goal, but don't get caught up in it being perfect (see my own oopsie example). Let yourself play!
---
PROJECT 2: WORDS OF AFFIRMATION
Words are powerful and have the ability to change the way we see ourselves. In your sketchbook, write down words that describe the best version of yourself. You may not believe some of these words/phrases quite yet, but write it anyway. Say the words out loud. Over time, you will begin to internalize the things you are writing about yourself.
Now, use a medium of your choice to add visual interest to the page. Whatever you like! Even paint over it! Hide what you wrote! You'll know it's there.
---
PROJECT 3: COLOR MIXING
There is something so completely satisfying about mixing colors. Choose a medium to use, and mix colors in as many different ways as you can imagine! Watch the colors melt together and take notes on which color combinations are your favorite and what colors you used to get there.
These pages will be used in future prompts, so don't worry about using a page to "just mix colors."
---
PROJECT 4: LAYERING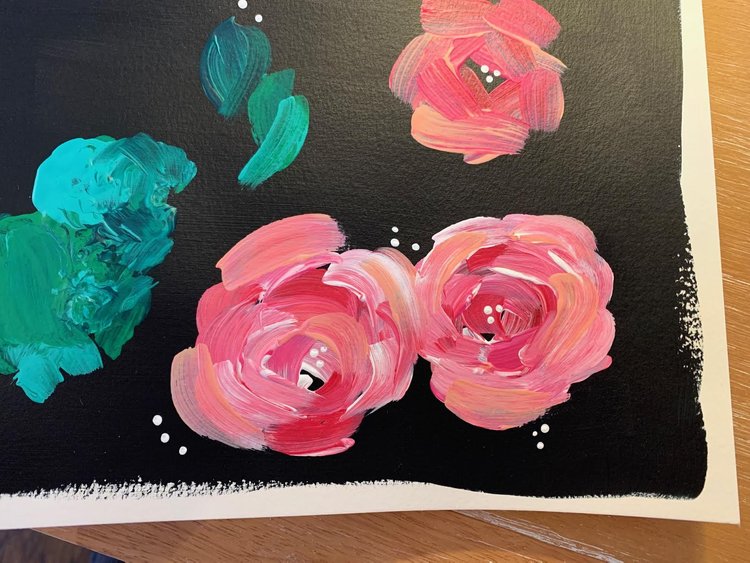 Layering is the perfect way to play with different mediums!
As you experiment, ask yourself, "What happens when I layer acrylic paint? How about colored pencil? Watercolor?" Each medium with handle layering differently base on its opacity and drying time (if applicable) between layers. Want something to have more dimension? Add layers. Want to cover ups a mistake? Cover it up on the next layer!
Layers are your friends, so take some time to get to know each other.
---
PROJECT 5: PLAY WITH A NEW MEDIUM
Do you have any art supplies you've never tried out? Been afraid to mess them up? Now is your chance to dive in and just play! See what this new medium does on the paper. How it moves, blends, etc. Take notes around the page to remember things you've learned along the way.
---
PROJECT 6: CLOSE YOUR EYES
I learned this technique from a retreat I attended with Flora Bowley, and it made all the difference for me. Often, we get so caught up in trying to figure out what we want to draw that entirely too much time is waisted! The solution? Close your eyes and move the pen/brush around the paper. Even try your non-dominant hand! When you open your eyes, look at the lines and shapes created on the page and just start to fill them in with color. A form may even jump out at you. Think of this just like gazing into clouds until you see a shape.
---
PROJECT 7: PATTERN PLAY/MARK MAKING
Remember those really cool color mixing pages you created? Now we are going to go back and turn them into abstract masterpieces! Using whatever medium you like (I used paint pens and markers) add pattern all over the page. Don't try to make sense of it, just go for it! You will be amazed what a combination of mediums can do on paper.