Bargaining: This is the stage of grief I am entering as I plead with the great outdoors to chill our Texas weather. Can we flip the switch from Summer to Fall, please? This is great weather to ease a dog owner's responsibility, but the sun's UV rays take a tremendous toll on energy. Hot tip: One walk outside in this weather is bound to settle a pup down into a nap for the rest of the day.
For this article, I teamed up with my mom (Carrie Donovan), my partner (Vanessa Martinez), and our dogs (Covey, Paloma, and Joe Dirt) for an afternoon of adventure through the trees of Fielder Park in Arlington.
The truck was chocked full of anticipation today as we drove down Fielder Road, slowly approaching a large field coming into view. Looking back to the days of my childhood, I remember waiting for the crossing guard at the end of the school day to confirm it was safe to cross over from the Swift Elementary side of the intersection to this very field. I have countless memories of activities happening here, ranging from soccer to ultimate frisbee to baseball to a game of tag. Turning into the parking lot even sparked some exciting memories of attending a friend's birthday party and taking small field trips.
The park had different features back then. I recall a merry-go-round, a seesaw, and drink machine stocked full of All Sport Body Quencher. As I pulled into the parking spot, it helped to ground my thoughts in the present as Vanessa and I prepared the dogs to meet up with my mom and her dog, Joe Dirt, who were waiting for us at one of the many picnic tables at Fielder Park.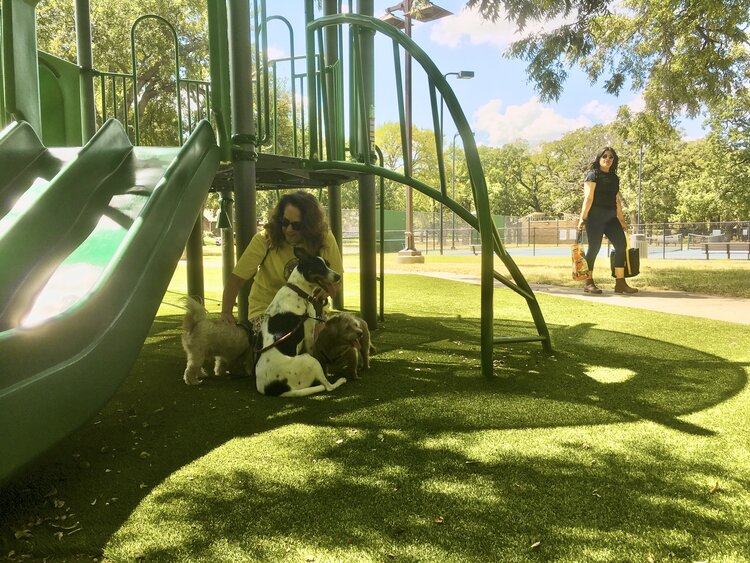 The parking lot cuts into the park itself. To the west, a three-story playground with slides, a swing set and other amenities sits in front of a tennis court. Beyond that is a field of trees and a short trail which serves as a border between the park and the surrounding neighborhood. To the east of our parking spot lies the large field that can be seen from Fielder Road.
Leaving the car, we walked down a trail to meet my mom at a picnic table in a shady spot where we felt safe and secure enough to leave our bags while we explored the park. Heading west down the trail towards the trees, we walked alongside an empty basketball court attached to the edge of the tennis court. It was way too hot to spend energy playing a game of HORSE on this particular day.
Suddenly, much to our surprise, Paloma got loose from her collar and darted across around the park. Fielder Park is a large enough space for a dog to run loose, but small enough for us to keep track of her exploration while devising a plan to get her back in her collar. Her exploit led us into the back of the park, where we were greeted by another shaded area with a picnic table and accessible trash can. We successfully re-leashed her, which enabled us to take a rest and enjoy some cold drinks while taking some pictures of the dogs playing together.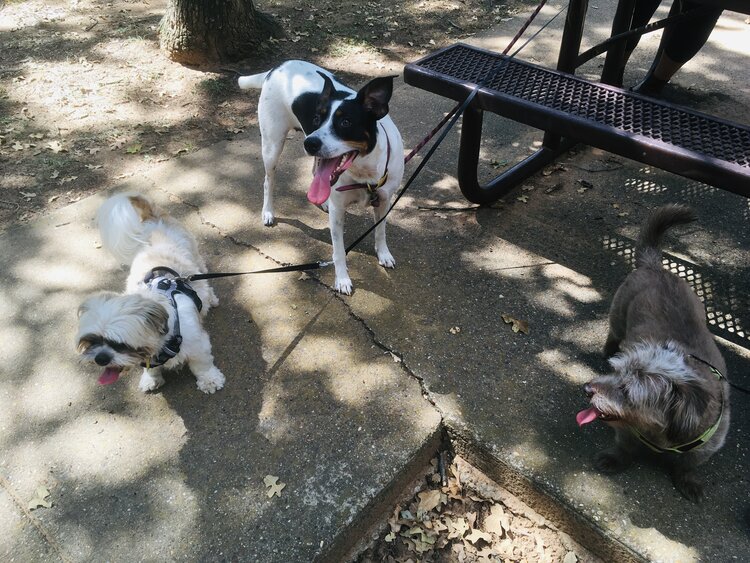 We then made our way back to the front of the park where we ended up finding yet another accessible seating area next to the playground. I felt a pull from my inner child to climb up into the third story of the playground towering in front of us, but at this point the heat had already sapped everyones' energy enough to call it a day.
A visit to Fielder Park makes for a very special day no matter what the weather. There's something for everyone from adults to families to sports teams to dogs. The invitation is wide open for those seeking a local adventure in such an easy-going park. I believe bringing water and snacks to share, comfortable footwear, and an entire party of loved ones would make for an unforgettable time up at Fielder Park.
Photo credit: Vanessa Martinez